For many years, weight loss programs have been based on one metric and one metric alone: pounds lost.  And while that is still a good starting point, what we look at with regards to weight loss is changing as we combine the scientific advances of modern medicine with traditional weight loss approaches. In the past, calories in vs. calories out was the gold standard for shedding pounds…but we are learning that it's not that simple.
With the introduction of Clinical Bio-Metrics, we can examine the full picture, both internally and externally and develop a personalized weight loss program for you.
Personalized Weight Loss
If you do a quick Internet search for "Weight Loss Diet", you will be amazed at the number of results. We tried it, and found 33 million results in a couple of seconds…that's a lot of options! Some plans say high fat, some say low fat, some say high carb, some say low carb, some encourage eating bacon every day, some tell you eggs are damaging your health. So what's the right approach? The answer is… it depends on different factors specific to you.
TLC offers a number of advanced tests that can evaluate whole body wellness and track progress that may not be visible in the mirror or on the scale. Some of the different elements of TLC's program are:
Advanced Body Composition Analysis
Advanced Metabolic Testing
Functional Movement Screening
Physician Appointments
TLC Fit4Life Meal Plan
TLC's Lifetime Health & Fitness Guide
A 30-Day Money Back Guarantee
Advanced Body Composition Analysis
The advanced body composition test measures body composition, and in particular body fat. It also measures lean body mass, also known as Fat Free Mass (FFM) – this represents everything added up in your body, except for fat. Using the FFM, we can help determine increase or decrease in muscle mass.
Let's take a look at a real-life patient, a 59-year-old female named Mary* and go over her results.
*Name changed for anonymity.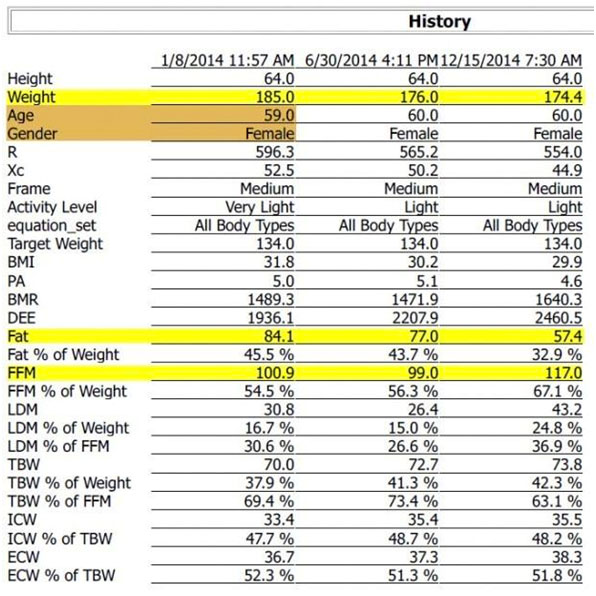 Mary had a goal of losing 30 pounds, hoping to drop from 185 pounds to 155 pounds. When looking at her weight from January 2014 to December 2014, it appears she only lost 10.6 pounds. Traditional standards would tell us that Mary did not achieve her goal…but let's take a closer look.
In January 2014, Mary had 84.1 pounds of fat based on her Body Composition. Later that year in December, she had 57.4 pounds of fat. That means she lost 26.7 pounds of fat over the course of a year – almost hitting her goal of 30 pounds!
She started with 100.9 pounds of lean body mass (reflected in the FFM), which increased to 117.0 pounds of lean body mass by December. She gained 16.1 pounds of lean body mass.
Without a closer look, Mary probably would have been frustrated. She may have even felt like she wasted her time since her pounds and BMI did not change all that much. While only losing 1.6 pounds overall in the second six months of the year, this was also the period that she lost the most body fat! Our Advanced Body Composition Analysis can show you not only pounds lost, but provides valuable information about your body composition overall.
Advanced Metabolic Testing
Like we had mentioned before, a diet needs to be specifically tailored to meet your weight loss goals and your physiologic needs. At TLC, we are helping you take the guesswork out of eating. This exciting technology measures resting metabolic weight. Combined with information about your lifestyle and exercise routine, we can pinpoint your optimal amount of calories while still losing weight.
We can determine both the calories you should consume in a day, as well as how many calories your body can burn with 30 minutes of exercise. With this information, combined with your Advanced Body Composition Analysis and your weight loss goals, we can create a program specifically tailored to your needs.
Functional Movement Screening
Ever tried to do a workout that is beyond your ability level? You may wake up sore for the next five days, and it totally turns you off to the idea of exercising. That is where our Functional Movement Screening comes in! We will assess your baseline of movement ability, see where there may be pain and determine physical competency for your training progression. We want to start you off where you feel comfortable, but challenged. This helps us improve your overall movement and maximize the effect of your workouts.
Sustainable Health
Crash diets don't work. Sure, they may give you some quick results, but the level of calories consumed or exercise required is not sustainable. Our goal at TLC is to help you lose weight and begin on a journey towards a healthier you, but only in a way that is sustainable long-term. We are not just another weight loss program, hoping to get you to a certain number on the scale. Our goal is lifestyle and health change, and we commit to be with you every step of the way.
As a part of this, we offer our "Lifetime Health and Fitness Guide". That means, that if you decide you are done with one of our programs, TLC is still behind you! Our trained fitness staff will continue to stay in touch with you to make sure you are on track and to provide you ongoing guidance as you find necessary.
We believe so fully in this approach to weight-loss and fitness, that we give you a 30-day money back guarantee. If you don't lose weight or feel that your needs are not being met, you will get your money back. We will help you on the path to achieve your goals – that is our commitment to you.
If you are interested in Medical Weight Loss at TLC, call our front desk at 720-351-2411 for more information!